In Paris, Bordeaux, Lyon, Aix-en-Provence or in any city, pétanque, historical walk, slackline, Mölkky or outdoor escape game will energize your outings. To practice alone or in family with children, as soon as the sun comes out.
Pétanque in the city center in Paris, Bordeaux, Lyon, Aix-en-Provence
Pétanque has been considered since April 3, 2021 by the Ministry of Sports and by the French Federation of Pétanque as an individual sport practiced in a group, and not a collective sport. It is therefore authorized at all times, it was the case during confinement. To make children, adolescents and adults want to go out, offer a game of pétanque! City centers all have dedicated spaces. If you don't know where is the closest to your home or vacation spot is, if you don't know the rules or if you don't have anyone to play with, select a petanque enthusiast on Nohô. He will tell you all about this sport, he will present you the best spots and partners of choice. The opportunity for you to meet people who share your hobbies.
Historical walks in Paris, Bordeaux, Lyon, Aix-en-Provence
A walk? If your friends or family are difficult to convince, you have to find tips to make the ride more fun and allow everyone, especially the youngest, to take the famous 10,000 daily steps! The good idea may be to relate the history of the city to walking. Obviously this requires a little preparation. For Paris, the editorial team helps you with the Top 10 must-see places. You can also go to the website of the tourist office. Most of the big cities offer a description of the circuits. If you want to get off the beaten track and go on a treasure hunt or an original visit, for example, consult the proposals of the Nohô hosts. Meet them for 1 hour or more and spice up your outings !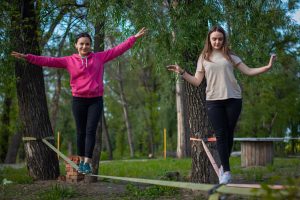 Slackline in green spaces in Paris, Bordeaux, Lyon, Aix-en-Provence
Slackline consists of walking barefoot in balance on a rubber band stretched between two trees located 5 or 7 meters from each other. The strap is fixed at knee height, no more to avoid hurting yourself when falling. In addition, choose an earthen floor, not concrete. It's fun and this activity can also be practiced anywhere, in a park, a wood, a green space … Tempted? If you want to experience slacklining before you start buying a kit or if you want to practice with a regular, search our site for Nohô hosts who are passionate about this discipline halfway between climbing and skiing. 'acrobatics. This may be the opportunity for you to meet one of the many communities of slackers or even to do yoga or gym classes on slackline afterwards.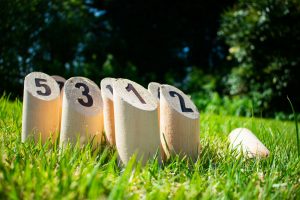 Mölkky or Kubb in Paris, Bordeaux, Lyon, Aix-en-Provence
Vous aimez la pétanque? Vous voulez innover et bluffer vos amis? Proposez une partie de Mölkky, appelé aussi quilles nordiques. Il s'agit d'un jeu traditionnel finlandais qui oppose 2 personnes ou 2 équipes. L'objectif est de marquer cinquante points en renversant des quilles numérotées de 1 à 12 grâce à un bâton de bois. Il doit y avoir 4 mètres entre les joueurs et les quilles. Il existe également une variante un peu moins connue qui s'appelle le Kubb un peu plus stratégique. Envie de vous lancer et de trouver vous aussi des idées de jeu à plusieurs au grand air? Consultez les propositions des hôtes Nohô sur notre site. C'est l'assurance d'un moment de fou rire partagé!
Escape games in Paris, Bordeaux, Lyon, Aix-en-Provence
The initial goal of the traditional escape game is to get out of a room in which you are locked. There is obviously a limited time and a puzzle to solve using clues. Outdoor Escape Games are based on the same principle. It is about going to several in a district for one or more hours, the puzzles are hidden in the streets. It also allows you to visit places that are often overlooked. With the Nohô application, you come into contact with enthusiasts of a district, a village … Visit differently, let yourself be surprised. Your family will love it.
To remember
• In Paris, Bordeaux, Lyon or Aix-en-Provence for example, pétanque, historical stroll, slackline, Mölkky, Kubb or outdoor escape game make your walks fun.
• To find an original idea for an outing, trust enthusiasts who live in the neighborhood or who know it well. They make you discover activities and original places.
• Nohô hosts are enthusiasts who wish to share with you their love for a leisure activity, for a city, for a place… So book a Nohô sharing directly on the Nohô site or application and have fun.

from Nohô
On Tuesday 04 May 2021 at 16:18